Pivot doors have always been a challenge to manufacturers, builders, and installers. Specifying and building high-performance pivot doors definitely got easier for everyone when we introduced the FritsJurgens pivot hinges, especially the System M family of pivot closers. For some, it became the only reason to finally get into offering these difficult doors, as the market pushed them to build bigger and heavier ones. As grateful as our customers were to be able to avoid digging into the concrete slab, they still had a host of other details to navigate to get things buttoned up.
First on their list was always sealing the pivot door. Increased consumer demand for minimal to no-threshold conditions between interior and exterior environments drove their need for a high-performance automatic door bottom for the pivot door. When we started delivering drop seal solutions for their doors, our OEMs and other door makers were asking whether they could install the standard System M Floor Plate flush into their thresholds.
The need for an updated solution became evident.
This is where FritsJurgens stepped up.

FritsJurgens has engineered two new floor plates for their System M/M+ line—Flush Square and Flush Rounded—to address this need for a smooth transition from exterior to interior. From water infiltration problems, to energy-saving requirements, to ensuring ADA compliance, FritsJurgens' new innovative flush-to-the-floor floor plates are going to seem like answered prayers for our pivot door OEMs.
Reference Materials
We suggest downloading the following technical documentation to reference as you read about the two new floor plates from FritsJurgens.
THE FRITSJURGENS FLOOR PLATE REVOLUTION

It was a simple idea: put it all in the door. What is on the floor better be pretty rugged. All of the FritsJurgens floor plates hold up monumental pivot doors (up to 1100 lbs), and all of them can be used on any finished floor surface or threshold material, even between two different floors.
FLUSH FLOORS PLATES = Better Sealing Solutions
But in some cases, where seals were involved, the standard floor plate creates possible conflict with flipper seals, brush seals and especially automatic door bottoms. FritsJurgens designed the new flush floor plates so you can achieve optimal sealing performance for pivot doors of any size. The design allows for a much more efficient sealing connection with the sill whether you are using drop-seals, or traditional silicone or brush gasketing on your pivot door.
FritsJurgen's flush floor plates offer better sealing solutions by providing:
Tighter Gaps - The undercut is reduced from 11 mm to only 7mm (~.28").
No Collisions - The round plinth that accepts the spindle is only as wide as the closer body (32mm).
Compatibility - Floor plates can be used with standard 1/4" high ADA aluminum door sills.
Perfectly Flush Floor Plates - Floor plates can be set flush with the threshold material, allowing gasketing and drop-seals to be easily deployed without scraping up against the floor plate when actuated
FritsJurgens' new flush floor plates can be used with any threshold scenario including but not limited to:
Wood floors and thresholds
Aluminum ADA sill
Stone thresholds
Finished floors
Concrete
Tile
Below you can see the original System M | M+ floor plate on the left and the new floor plate on the right.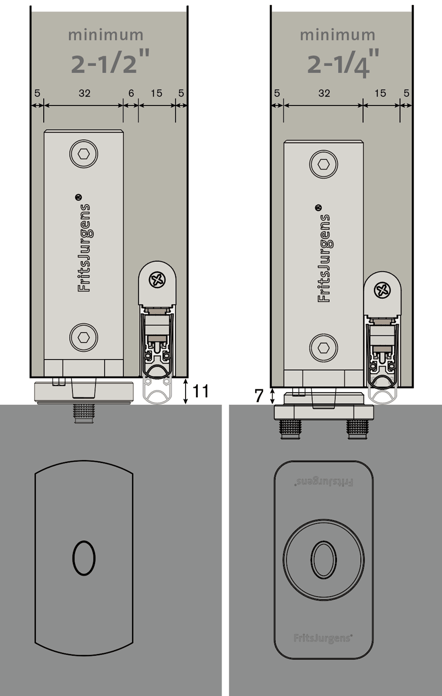 The push for larger pivot doors has also pushed for better-engineered slabs. This new breed of engineered slabs allow for thinner, more stable doors without adding thickness or weight. Prior to this, if an architect wanted to incorporate a high-performance door drop seal in their project, they were limited to doors that were minimum 2-1/2" thick. FritsJurgens' two new no-threshold floor plates make it possible to run the Athmer automatic door bottom alongside System M or System M+ pivot closers and get it all into a minimum 2-1/4" thick door.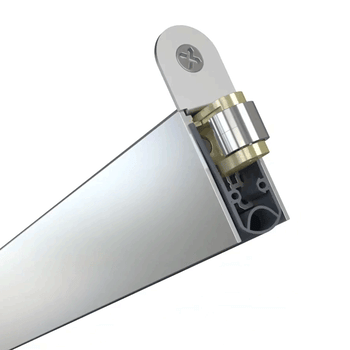 In addition, pivot door manufacturers can now provide high-performance automatic seals at the top and at the threshold with the Athmer SchallEx 15/30 WS Pivot door seal solution. The automatic door bottom for the pivot door features an adjustable roller actuator, which helps negotiate the pivot door's unique approach to the jamb. As shown above, it can work with either the 11mm or 7mm gap.
The synergy between the performance of the System M | M+, automatic door seals, and these new flush floor plates will result in an enhanced level of performance for the entire pivot door system.
NO mORE NEED TO USE ALUMINUM ADA SILLS WITH COMPOSITE FILLER
The modern architectural trend of unifying indoor and outdoor spaces gained further momentum with an increased call for ADA compliance and other Universal Design and accessibility principles.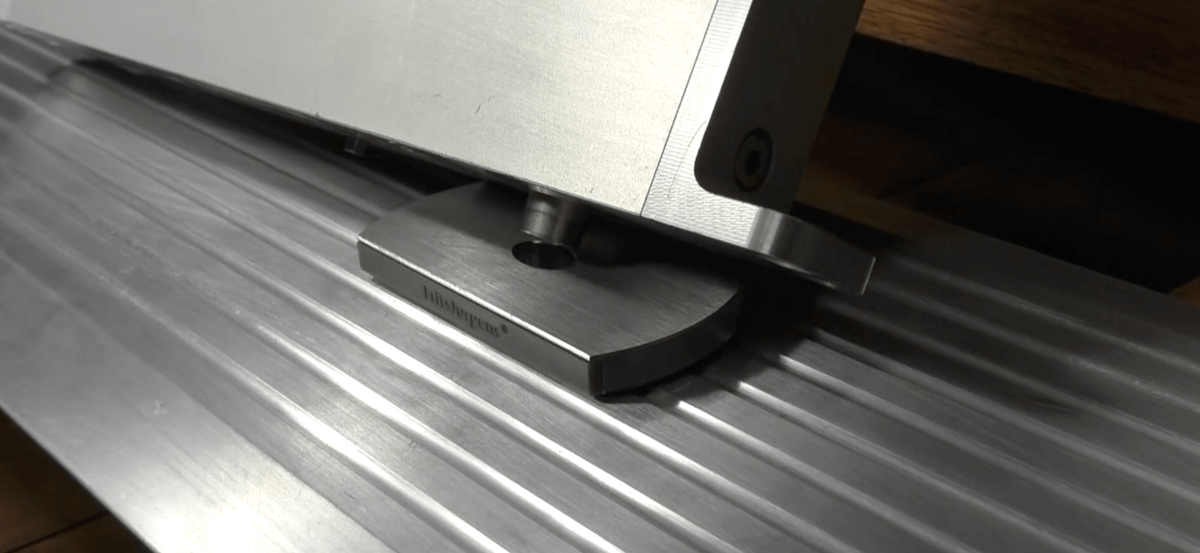 A small but growing practice had been to mount the standard FritsJurgens floorplate on an Aluminum ADA threshold. Because the area underneath the plate needs to be solid, and a standard sill may collapse under the weight of the door, the solution was to specify a sill that was backfilled with Aluminum Oxide Composite Filler. Now, with a 1/4" high ADA sill, you can install the new flush floor plate on the same surface as the sill, and still provide proper clearance above the surface of the threshold.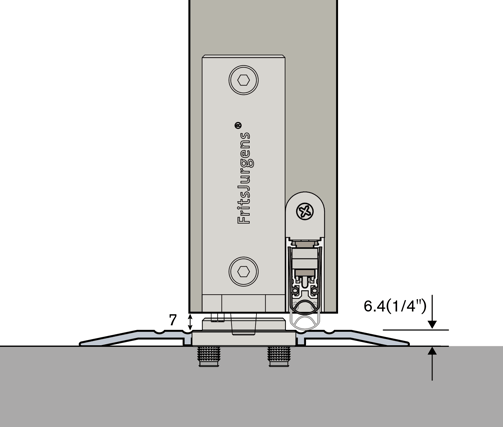 The no-threshold condition between the interior and exterior has become the new gotta-have-it move when it comes to any opening, especially pivot entrances.
Eliminate Thresholds to Unify Interior and Exterior Environments
Look, Ma, no threshold! The no-threshold condition between the interior and exterior has become the new gotta-have-it move when it comes to any opening, especially pivot entrances.
FritsJurgens' two new floor plates can be easily integrated into the threshold for a beautiful blending of the outside world with the interior space. OEMs can leverage the new floor plates to ensure they keep up with the growing consumer appetite for no-threshold environments.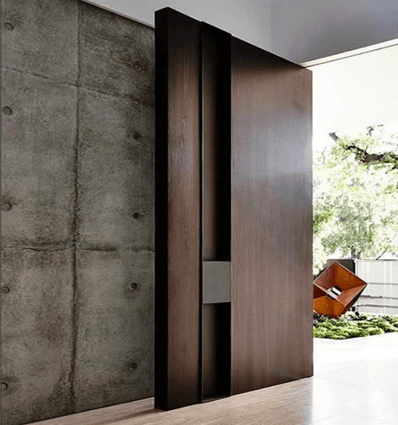 Hardened Stainless Steel Composition for Reliability and Corrosion-Resistance
FritsJurgens uses Series 420 stainless steel for all of its floor plates. There are two major benefits of using hardened tempered stainless steel: strength and corrosion resistance.

First, let's start with strength. All of the FritsJurgens plates accept the pivot spindle and then distribute the weight to the floor. That tiny oval hole in the System M | M+ plate needs to withstand the pressure of a half-ton door swinging for generations to come (current cycle testing is over 1 million). The hardened stainless steel in Series 420 is fully scratch-resistant and almost 3X the hardness of Series 304 or 316 stainless steel.
Then, the corrosion factor. FritsJurgens' floor plates have always had superior corrosion resistance but the new flush floor plate series opens the doors to a whole new level of corrosion protection for utmost reliability and durability. The new floor plates have been electro-polished which proactively removes surface-level contaminants that could become harmful vectors for corrosion. The thick chromium oxide skin that results provides an extremely corrosion-resistant surface that's ready for whatever the outside world can throw at it.
Provide a Modern Sleek Aesthetic Customized to Your Customers' Needs
A good deal of the modern architecture community leans toward not seeing anything. If there was a way for pivot doors to float on some sort of hidden magnetic force, trust us, they'd be specifying it.
With FritsJurgens hinges, architects are spared from looking at the ugly cover plates that hide the big old-school pivot closer cement case below. The new no-threshold floor plates for System M | M+ provide the flexibility to tuck that 40mm x 80mm floor plate underneath the thickness of a 1-3/4" door. The only thing sticking up above the threshold fits tidy under the body of the pivot hinge, providing a sleek appearance.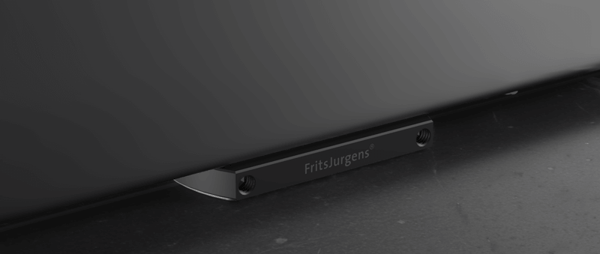 The floor plates also provide a cleaner look. It will require that installers are either ready to prepare the finished floor (as below) or are delivering the threshold with the door. Either way, there are now more choices to fit a specific situation.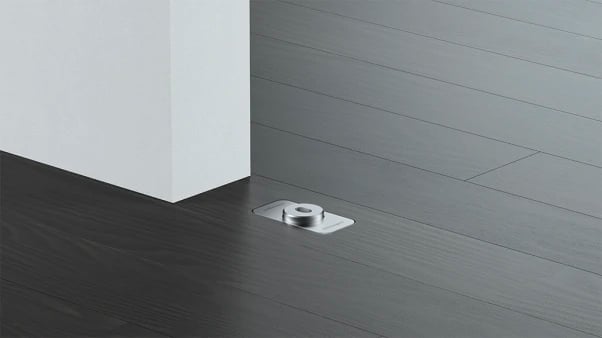 Compatible With Radiant Floor Heating
OEMs and architects no longer have to worry about damaging radiant heating tubes as the new floor plates are completely compatible. By flipping the heavy-duty closer from in-the-floor to in-the-door, FritsJurgens' new floor plates leave plenty of space to prevent costly damage.

For reference, radiant heating is usually located 5 cm under the floor's surface. The original floor plates only penetrate the flooring or the slab a total of 8mm and the new floor plates increase that to only 14mm (~.55").
Adjustable 0° Resting Position
The standard floor plates have a handy way to adjust the 0° resting position of the floor plate.
The majority of door shops are pre-hanging the whole frame, threshold, and door in-house, so a perfect fit is just a shop tweak away. This flexible floor plate adjustment is useful for sets of doors, especially space partitions where installers want to align the doors perfectly when closed (using magnetic catches helps with this situation as well). The original floor plate still makes sense for installations of doors directly on existing floors.
A SMALL INSTALLATION DETAIL WE WANT YOU TO NOTE

When System M+ was launched, the floor plates featured the option to use four of the 8mm position-setting pins to straddle two different flooring materials. The new flush floor plates have four pins, but their positions in the plate are such that, if you are using the handy installation template to mark your holes, you will need to turn the template 90° to get the holes in the right places. The diagram below further explains this. Now you know.

Achieve Pivot Door Sealing Perfection With FritsJurgens No-Threshold Floor Plates
It's always gratifying to hear the 'aha' from someone just discovering the adjustable pivot hinge System M | M+. The simple shift in their minds happens immediately. With the introduction of the Flush Square and Flush Rounded floor plates, OEMs can more easily integrate high-performance automatic door seals and achieve the perfect seal their end-users are looking for.
The team at FritsJurgens have taken up the mission of bringing pivot door technology into the 21st century and beyond. This latest product enhancement of the flush floor plates is not their first, and will certainly not be their last.
Bridgeport Worldwide relies on builders, makers, and installers of pivot doors to tell us about their experiences with these products so we can continue to innovate and supply the highest quality modern architectural hardware you have come to expect. Please keep the comments and suggestions coming. We're listening.