The desire for more elaborate leisure, travel, and dining experiences by consumers is increasing. Spearheaded by millennials and Gen Zers, consumers now choose more memorable experiences over tangible products.
According to a recent Eventbrite report, 78% of millennials say they would spend money on a desirable experience or event instead of buying a tangible thing they want. Over half (55%) of millennials say they're spending more on events and live experiences than ever before.
In response to subtle changes in consumer behavior, the hospitality industry is investing in innovative ways to provide more appealing and memorable experiences for its guests.
This is where experiential design comes into play.
To help designers capitalize on this trend, let's review experiential design principles before discussing the critical role architectural hardware plays in enhancing hospitality experiences.
What is Experiential Design in the Hospitality Industry?
Experiential design is an evolving architectural trend in building hardware that focuses on the consumer's experience. Contemporary design is primarily motivated by creating spaces based on aesthetics and design trends. With this new appetite for exceptional experiences, current experiential design factors in how a new generation of occupants interact with a space and accounts for their personal needs and desired experiences. To engender human interaction with a built environment, architects and designers strategically use premium building products to elicit an emotional connection that immerses guests in a unique narrative.
The goal of experiential design in the hospitality industry is to create a singular and engaging experience that encourages visitors to return time and time again. Thus human-centric design fosters brand loyalty; when visitors feel connected to a space, they are more likely to return.
In the hospitality industry, brand loyalty translates into increased hotel stays, more returning customers, and additional brand ambassadors who share their experiences through word of mouth and on social media. Many businesses are pivoting toward experiential hospitality as it provides a growing opportunity to attract, engage, and retain millennials and Gen Zers.
As businesses understand the increasing financial opportunities of experiential design, they are seeking experiential designers and architectural hardware specialists to create spaces that evoke strong emotional connections.
4 Principles of Experiential Design
Consider these four experiential design principles for your upcoming hospitality projects. As architects and designers, you can create immersive experiences that foster long-lasting and meaningful relationships between the visitor and the property by consistently incorporating these principles.
Committed focus on customer experience
Complement the environment with strategic use of architectural hardware
Ensure interactivity and personalization with innovative technology
Promote memorable experiences by prioritizing authenticity through attention to detail
Examples of Experiential Design in Hospitality Projects
You can help transform the hospitality industry by altering how visitors experience products, places, and environments. The experiential design trend takes uncountable forms in multiple settings, from hotels and restaurants to recreational spaces and mixed-use buildings.
Check out how these hospitality businesses leverage experiential design to differentiate from their competition and attract new customers.
Tech-Driven Entertainment Experiences
Entertainment companies combine technology and experiential design to create cinematic, interactive, and immersive spectacles. These mixed-use buildings provide visitors a connected and shared entertainment journey with complete immersion into an interactive world of light, sound, smells, and high-definition visuals.
Illuminarium Experiences, an experiential entertainment company, capitalizes on technology-driven experiences to deliver unforgettable sensory experiences to its visitors.
Created by Alan Greenberg, RadicalMedia, and Rockwell Group, these 26,000 square foot entertainment complexes use 4K laser projection, 3D audio, in-floor vibration, and scent emitters to enable visitors to see, hear, feel, smell and interact with exotic and coveted environments.
Illuminarium's immersive venues currently host several exhibits, including WILD, in which visitors interact with majestic animals in their native habitats, and SPACEWALK, where visitors leave footprints on the moon's surface.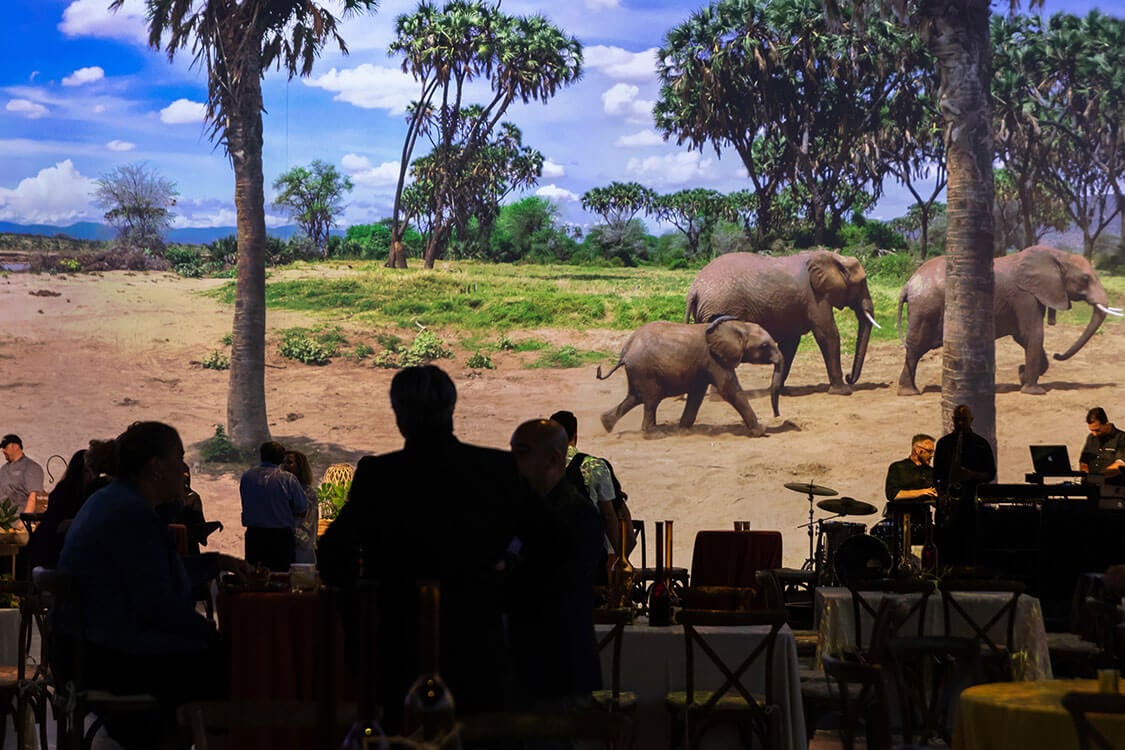 Multisensory Dining
Forward-thinking restaurants provide unique multisensory dining experiences for their patrons through experiential design. In multisensory dining, guests enjoy enhanced flavors and opportunities for social exploration within an authentic environment improving the overall dining experience.
Experiential design in restaurants is often used to create an immersive interior environment. Precise visual and cultural cues combine to help establish an authentic experience.
Ultraviolet, a multisensory restaurant in Shanghai, combines a 20-course Michelin star meal with video-screen walls, surround sound speakers, scent projectors, and UV lighting. The dining room continuously transforms throughout the meal, taking patrons on an immersive journey from environments covered in vivid neon graffiti to subterranean chambers.
This restaurant uses architectural hardware strategically and sparingly to establish a futuristic aesthetic grounded in minimalism. The kitchen and entryway are made of steel building products with black and white finishes. The dining room is siloed using a white double pivot door with imperceptible gaps around the threshold to minimize external disruptions.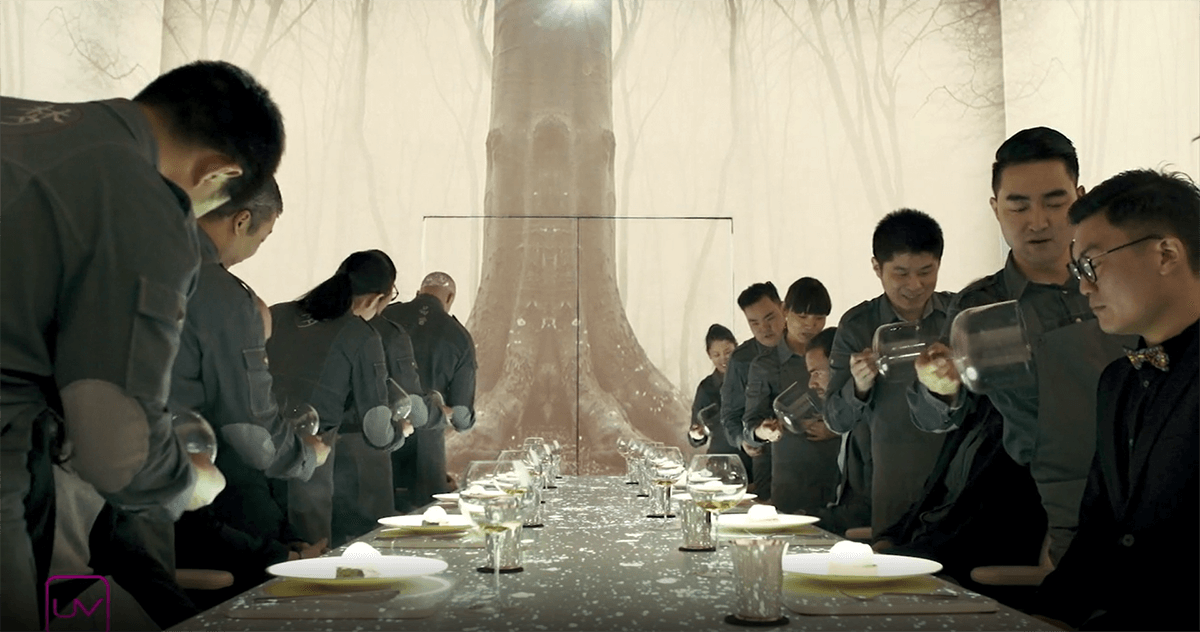 How to Use Architectural Hardware to Create Experiential Hospitality Environments
Architectural hardware helps create stunning immersive experiences for guests by complementing the experiential hospitality project and accentuating the environment. Your architectural hardware kinesthetically immerses visitors the second they open the door and begin their experience.
Soundproofing the environment is essential to creating an immersive experience. Nothing destroys the facade of immersion faster than hearing your neighbors in the next room. With high-performance automatic drop seals to soundproof various entryways, including wood, metal, glass, and pivot doors, designers ensure that visitors are not removed from the experience by external disruptions.
Creating Memorable and Enjoyable Experiences for Your Guests
How do builders and designers leverage architectural hardware's critical role in creating immersive experiences?
Opportunities are abundant as consumers seek memorable experiences. Businesses ready to capitalize on experiential hospitality should consult architectural hardware specialists for comprehensive specification support. By working on every aspect of a project, you will discover together which individual architectural products will create a memorable and extraordinary experience for guests.