Few metal finishes can stand up to the humidity, wind-blown grit, and constant exposure to salt spray that architectural hardware has to endure when the building project is located near the ocean. One tried and tested approach to maintaining the owner's investment in this corrosive coastal environment is to specify architectural hardware with a PVD (Physical Vapor Deposition) coating. Architects, builders, and dealers should understand the benefits of specifying a PVD finish in relation to standard electro-plating and powder-coating finishes from the standpoint of corrosion resistance, durability, environmental impact, and aesthetics.
"It looks like the hardware just melted on that door."
It's an unfortunate project manager that chooses the wrong finish for the client's beachfront villa. It really doesn't take long for powder-coats and plated finishes to begin to show surface wear, pitting, and corrosion. We've seen entire exterior hardware packages needing to be replaced before the project even reaches the move-in date.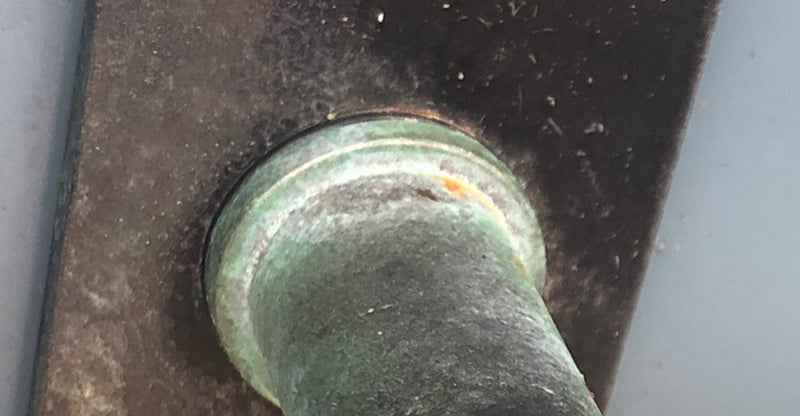 Acknowledging that the most innovative modern residential architecture is happening within spitting distance of a beach, the Dutch luxury door hardware manufacturer, FORMANI, continues to expand and improve its collections that offer PVD finishes. The advantages of this finish go beyond its ability to outsmart the elements. It has become a favorite finish for many designers utilizing it throughout their projects simply because of its superior surface properties. You can outsmart the elements and still have great-looking hardware.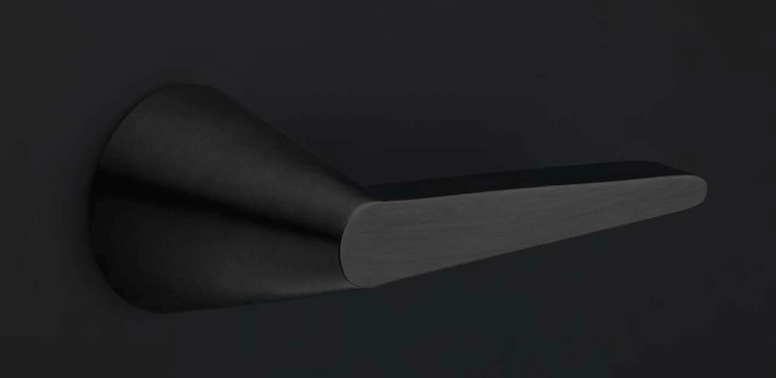 The new CONE lever in PVD Satin Black
From FORMANI's entry sets, to window handles, to multipoint sets, to cabinet pulls, architects and builders now have an extensive catalog of PVD-coated luxury architectural hardware to help them turn the tide in their fight against the elements.
WHAT IS PVD AND HOW IS IT DONE?
PVD stands for Physical Vapor Deposition. The process involves a machine like this one.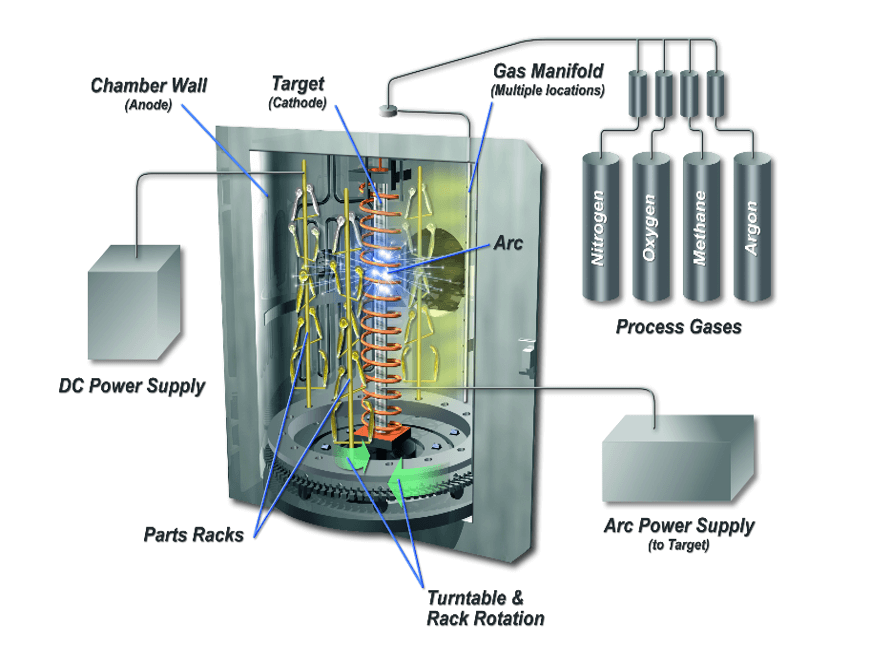 Inside the vacuum chamber, FORMANI's stainless steel hardware is etched clean by an argon gas. The size of the chamber limits the size of the parts, which is why you almost never see products bigger than one-meter finished in a PVD coating. Then a metal 'Target' made of the material to be deposited is vaporized under special electro-chemical conditions.
Vaporized material—ceramic in this case—sputtering off the target cathode in the chamber. (image: NASA)
The door hardware is subjected to a high voltage charge in order to attract that vaporized metal and deposit it on the surface, where it physically bonds at the atomic level with the stainless steel in a very thin (.25 to 10 microns) and super hard coating. The parts can then be given other properties—like FORMANI's Satin Gold color—through the action of process gases like oxygen and methane.
PVD coatings are a cost-effective method to greatly increase the performance of the surface with minimal environmental impact. No harmful gases or other substances are released and there is no waste. Also, note that the PVD process doesn't keep the stainless-steel base material from being recycled.
Unlike brass finishes or powder-coating, PVD, which stands for Physical Vapor Deposition, is an advanced process that alters the physical properties of the stainless steel at the atomic level, creating a hard bonded metal surface layer that greatly improves durability, corrosion-resistance, and the appearance and performance of the architectural hardware over the life of the building.
Why PVD Coatings are THE Best CHOICE for ARCHITECTURAL PROJECTS NEAR THE COAST
With the PVD finishes, we often hear, "I like that you can still see the brushed texture." Unlike with a powder-coated finish, because the PVD coating is so thin, the surface of FORMANI's finely brushed stainless steel can still be expressed and the edges of the forms remain sharply defined.
There are plenty of other advantages to the PVD finishing method. Here are four to keep in mind when specifying door hardware for your seaside building project.
1. Provides Superior Corrosion-Resistance
Many architects make the assumption that just by using stainless steel on your exterior door hardware, you don't have to worry about corrosion. That might be somewhat true in certain conditions where the climate is dry, but where it's wet, humid, and salty, that's a recipe for rust. Not that you couldn't up the ante with Series 316 Stainless Steel, which does very well in these environments, but PVD is unmatched when it comes to protecting stainless steel from the elements.
When battling the elements, exterior architectural hardware encounters different weather conditions that need to be accounted for such as UV rays, rain, and salty air. A PVD finished product is designed specifically to combat these factors. Since PVD-coated architectural hardware is unfazed by the elements, end-users will spend less time on maintenance and more time enjoying their beautiful outdoor space.
Lacquer and other finishes break down more quickly in coastal areas due to continuous moisture and salt spray exposure. PVD treated architectural hardware is designed specifically to mitigate these challenges.
Remember: Corrosion-Resistant does NOT mean Maintenance-Free
It's important to note that there is no "Terminator" finish. Door hardware, even with a PVD coating and especially where wind-driven grit and salt can remain on hardware for long periods, should be regularly wiped and cleaned to remove these possible vectors. PVD is the best option for corrosion resistance, but it's not indestructible.
Contact us for more information about specifying PVD coated hardware for your projects.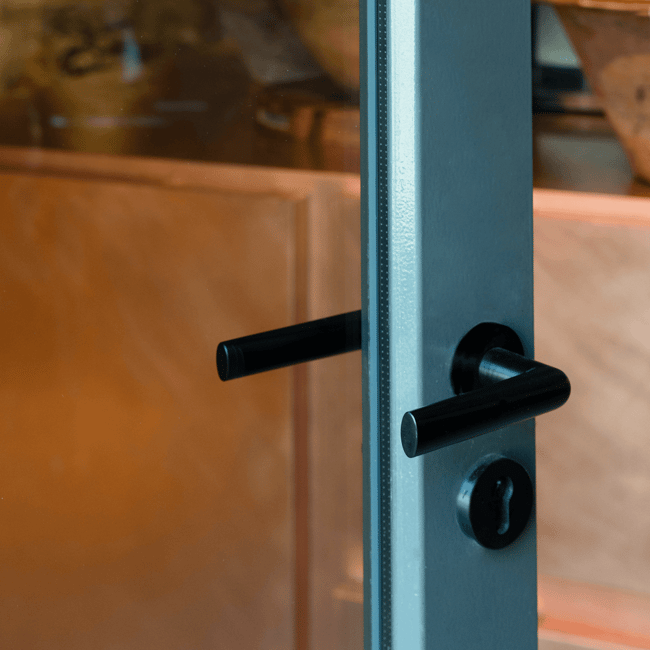 2. Improves Durability, Extending the Lifespan of Door Hardware
Traditional electroplating techniques require lacquer top coats that degrade over time, sometimes disastrously, while the microns-thin PVD finish performs beautifully. Much thinner than powder-coat finishes, the PVD top layer created during FORMANI's advanced PVD coating process is extremely hard and scratch-resistant, which helps keep the hardware looking great while preventing chipping, salt damage, peeling, and the affects of dirt and oils from normal use.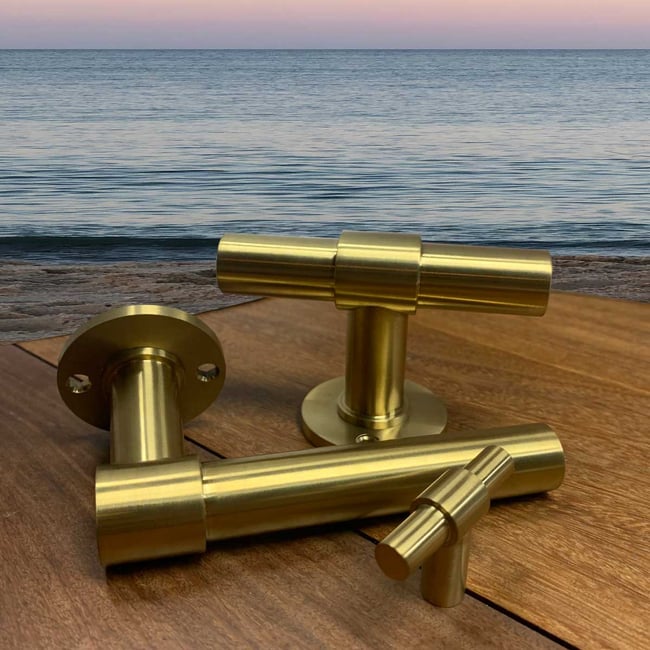 3. It's an Environmentally Sustainable Coating Process
The cost-effective PVD coating process goes beyond its functional durability. As involved as the PVD process may seem, it is way more friendly to our environment when compared to other hardware finishes. Electro-plating and powder-coating involve cyanides, toxic cleaning solvents, acids, hexavalent chrome, pigments, and other nasty chemicals that pose a problem to the environment. PVD coating has virtually zero of these environmentally dangerous byproducts.
As everyone in the design/build universe starts to respond to owners who are requiring sustainability in every part of the process, PVD finishes can help address concerns about the way door hardware is finished. The PVD coating process provides coastal property owners a finished product they can be proud to showcase, not only because it will look great over the life of the building, but because of its minimal impact on the environment.
And, longevity counts towards sustainability. What's more environmentally friendly than door hardware that doesn't end up in a landfill prematurely?

4. Keeps Colors and Finishes Looking Good Over Time
When lying on the beach, you're smart to protect your skin from the harmful effects of prolonged exposure to UV radiation. Unfortunately, spreading sunscreen on your levers or fitting them with little umbrellas won't cut it. PVD finishes can be the protection your architectural hardware needs to retain its vibrancy long into the future.
One of the advantages of PVD coating is that you can deliver the product in a wide range of colors. There is already widespread use of PVD-colored stainless steel panels on buildings to help ensure the color doesn't fade. By specifying a PVD finish on your exterior door package you'll be protecting your hardware from fading, discoloration, and pitting, even in coastal areas with high humidity and moisture. Where powder-coat surfaces might end up bubbling or worse, PVD continues to resist the bleaching and sand-blasting often seen on other finishes near the coast. Whether you're specifying door, window, or furniture hardware, colored PVD finishes will make your coastal property stand out and retain its vibrancy long into the future.
The PVD process can be applied to a variety of different parts in a vast array of colors for maximum versatility. It's also important to note that PVD finishes used on exterior doors and windows can also be applied to the interior. FORMANI offers its architectural hardware in the following hearty PVD finishes.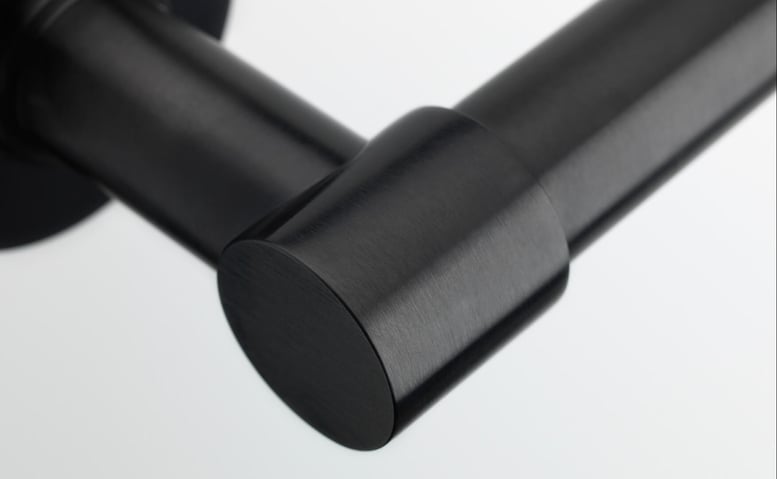 A shining example of FORMANI's dedication to PVD finishes is their PVD Satin Black Finish, above. This state-of-the-art finish is a deep inky black and unique in the world of architectural hardware. Many PVD blacks never reach beyond a sort of dark gray anthracite color with a slightly glossy layer. Sometimes this is called PVD gunmetal. Nice finish, but it's not black. FORMANI, however, has succeeded in developing a technique that allows them to deliver this deep black color with the original brushed stainless-steel surface that you can see and feel. This color intensity is a first, and is available exclusively through FORMANI.
And with BLACK still keeping its position as favorite finish color throughout the design community, it has become a popular finish with architects. For more information about PVD color options, consult the FORMANI finish chart.

Start Leveraging PVD Finishes for Your Coastal Building Project
As you know, no matter how good they look, the levers are only there to operate the locks. Specifying the complete hardware package for projects on the coast requires attention to the moving parts and how they will be protected from the elements. Make sure to work with a dealer that can help guide you through specifying FORMANI trim hardware and the impact of the coastal climate with the rest of the hardware package.
From engineering concerns to aesthetic choices, finding the perfect finishing solution for coastal properties is a process. Bridgeport Worldwide is your resource for information about any of these finishes. Our network of dealers and architectural hardware specialists have extensive experience with specifying PVD-coated architectural hardware.
Don't know which products can withstand the harsh conditions in your coastal area? Contact us today for comprehensive specification support to find the FORMANI dealer in your area who can help deliver their beautiful and tough architectural hardware for your coastal project.