Open up your choices.
FritsJurgens continues to improve on its already ground-breaking line of pivots with two new top pivots which allow you to maximize the opening.

Here's what you need to know :
There's a new common top pivot with a minimum 70mm pivot point backset.
A new 40mm backset top pivot for all Sytem M and M+ pivots allows any door to be a pivot door.
Heads up on a new Reverse Top Pivot available later this year.
Ordering Pivot Sets is now an easier, more structured affair with new Codes.
---
For our friends at FritsJurgens, resting on their laurels never seems to have crossed their minds.
After introducing the industry-disrupting System M, System M Friendly Access, and then the System M+ bottom pivots, they've decided to take a top down approach by updating their common top pivot.
New Common Top Pivot:


The new top pivot (TP-70) brings the pivot point backset down to a minimum 70mm (2-3/4") from the previous 91mm (3-9/16"). Now, that might not seem like a lot, but as more architects realize the advantages of pivot doors throughout their projects, maximizing the available opening makes it even easier for them to choose pivots over traditional hinges. So, why not get what you really want, right?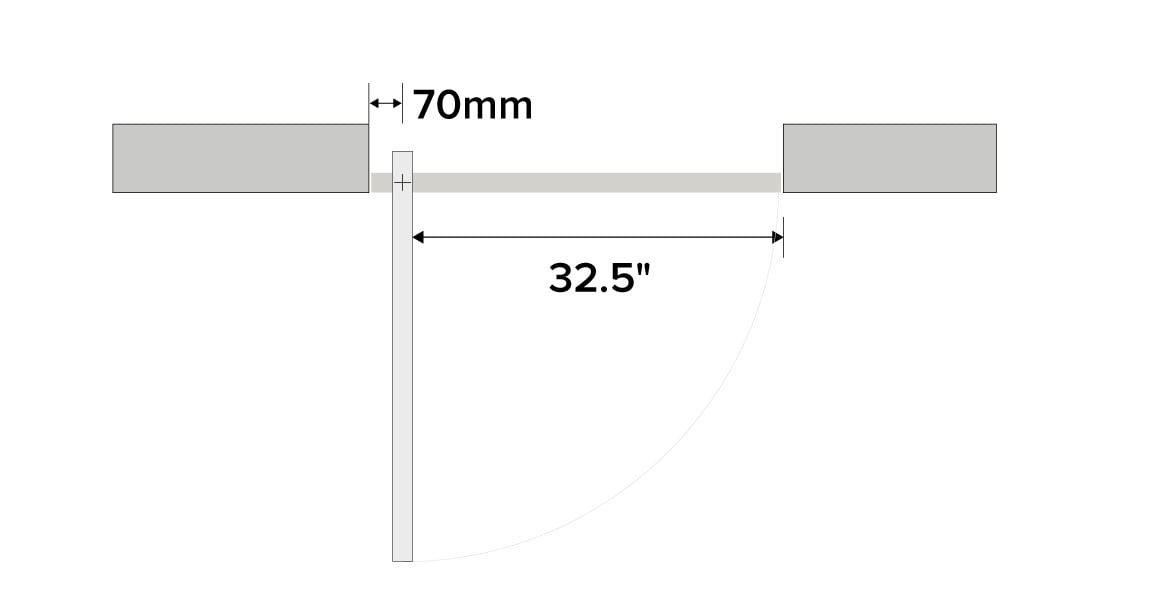 And, with this new common top pivot you can now get an ADA compliant opening using a standard 36" slab.

The TP-70 is a universal solution that works with every System in the FritsJurgens line.
NOTE : The Legacy 91mm common top pivot will be around while supplies last. Get in touch soon if you need this model top pivot for your door.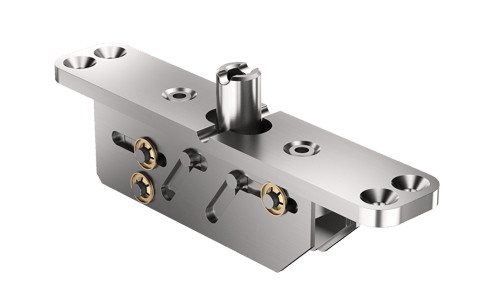 Good News: the common Cable Grommet Top Pivot (TP-CG), with its 91mm minimum pivot point, will still be available going forward. There is currently no cable grommet version of the new top pivots.

40mm BACKSET TOP PIVOT

Well, that's great news, but we live in a world of extremes. Some of you are thinking this new reduced pivot point doesn't matter much to you because you're building 6' wide pivot doors anyway, and you're not worried about clear width at all.
And, some of you are thinking...."70mm? still not good enough."
For you, FritsJurgens has just rolled out the TP-40, a top pivot with an incredible minimum pivot point of 40mm (1-9/16")! This top pivot can be paired with any of the System M and M+ bottom pivots, so doors from 44 to 1,100lbs are possible.
Clearly every door now can be a pivot door!
To create a clean finish for this new edge mount, FritsJurgens has designed smart-looking magnetic coverplates with the same satin stainless steel and black finishes to match their floor and ceiling plates. Now everything can match if that's your desire.
As with the TP-70 top pivot, the 40mm Sets allow for an ADA-compliant opening with a standard 36" wide slab.
And, as with the 70mm pivot, you'll want to mind the gap on the hinge side of the door to be sure you don't have any binding there.
Spindle Diameters

To address the lateral forces on pivot doors with tighter backsets, FritsJurgens will deliver each of the new top pivots with one of two different spindle diameters—the Class B with a 10mm spindle, and the Class G with a 15mm spindle. When ordering your Set—whether TP-40 or TP-70—the top pivot with the appropriate spindle diameter will be included based on the Weight Class of the bottom pivot you specify. The appropriate ceiling plate will also be delivered. There's no need to specify these spindles.
Reverse Top-Pivot

If all that wasn't enough, there's a reverse top pivot (TP-R) on the horizon which flips the script, putting top pivot in the head jamb or ceiling. This is classic FritsJurgens, responding to the market's desire for minimal frame profiles. Pin-setting and plumb adjustment will all be done from the top pivot in the header, so there won't be a need for holes on the edge of your door.
Thanks to its placement in the head jamb or ceiling, this system is adjusted from the ceiling making middle placement of the pivot on wide doors more convenient.
Too much to wrap your head around? Don't worry, the TP-R doesn't come out until later this year, but you can start dreaming and scheming.
New Set Codes

To accommodate all of these new top pivots and pivot sets, FritsJurgens is introducing new item codes for all of their products. Gone are the six digit numbers and slashes. The new Codes are building blocks that help you identify your set or component and provide clear communication of what you are getting when you open that beautiful black FritsJurgens box.
Need More Support in Getting Up to Speed?
Contact us, and a member of our team will connect with you.